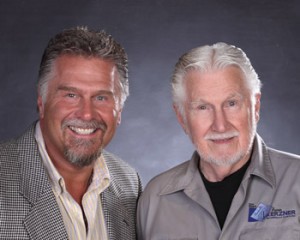 Kerzner is a design build remodeling firm located in Oconomowoc Wisconsin, the heart of Lake Country.
Kerzner has completed hundreds of home improvement and remodeling projects. With strong emphasis on craftsmanship and integrity "Kerzner" has received numerous awards, both locally and nationally, for design and craftsmanship achievement. "Kerzner" has also been a two time recipient of the Better Business Bureau's Torch Award for Business Ethics and Integrity.
Don Kerzner Sr. established the firm in 1966 with a simple, yet effective business plan based on integrity and a slogan, " We treat your home, as our own" Back in the days when a handshake represented one's word, Don built a reputation for walking his talk and offering old world craftsmanship at a fair price.
In 1984 Nick Kerzner partnered with his father and made Kerzner Remodeling and Construction a second generation business. Based on the foundation of solid business practices, Nick has built on his father's ideals and works within the industry to maintain those standards through his involvement in a number of trade associations. Understanding the value of continual growth, Nick Kerzner is one of under 100 Master Certified remodelers in the nation and is also a Certified Kitchen and Bath Remodeler. Nick has servred on the board of Directors of both Milwaukee NARI (National Association of the Remodeling Industry) and the Milwaukee Better Business Bureau. He holds a Wisconsin Real Estate License. Nick also supports consumer awareness through his alter ego "Nick the Construction Guru" authoring numerous articles on industry related subjects and is host of Nick the Construction Guru radio show airing Sunday mornings at 9am on Newstalk 1130 WISN.
Backed by a staff made up of industry professionals whose combined experience totals over 100 years Kerzner Remodeling and Construction has the experience to do your job on time, on budget and on expectation. "From Start to Finish, we treat your home as our own.
We are very happy with the looks of the windows and we love the patio door. The gentleman who installed the windows and door was very professional, on time, knew exactly what he was doing. The gentleman who came back to close off the wall and ceiling also was very professional. Both were extremely kind and courteous and customer service seems to be what your company strives for. At this point we are really happy with your services and would recommend your workmanship highly.
Based on the recommendation we received from our friend/neighbor, we were confident that a good job would be done. But the workmanship and quality of product far exceeded our expectations. Well done!! You will definitely be called when the other windows and patio door are replaced. Thanks
The level of customer service you deliver is among the best I have ever seen!
I'm glad you take your pager/phone off before you go to bed. But your availability at all hours is a bonus.
Liked the personal interest the company took in satisfying us. Efficient, prompt and very satisfied with the finished look and product.
Unexpected delays coupled with very poor workmanship on home repairs by previous owners made for frustration. Beautiful workmanship done by Kerzner made this truly a beautiful transformation.
The product you provided is of high quality as is your service. Bill did an outstanding job of installation. It is a pleasure doing business with a company where all aspects are handled professionally by people who obviously take pride in what they do. Thank you
Thank you for the great job you did on our home. The roof, fascia, trim, make it look like a new house. A special thank you to Kevin for all the hard work he did. We appreciate the quality products you used also. Thank you
The room turned out beautiful! All the trades did an excellent job.
We are very satisfied with your work. Hope we can do business in the future.
We are always satisfied with your performance and courteous way of everyone who works for you. You folks take pride in your work and it shows and that makes us look good too. (our house that is)
We called and you came. You gave us good advice and a great price and we accepted. Your work was done professionally with excellence, all within a short period of time. We love your work and will definitely call again when needed.
Down to earth people, I love talking to all of them! Don't ever let Bill go (installer) – top guy. You can't go wrong when you go with the best and I thank Nick for that summer day.
Your attention to details and post completion follow up is very much appreciated.