Call 262-567-2500 to get started on your basement remodel!
If you have an unused area in your basement, Kerzner's staff can turn it into a beautiful, functional living space. Through our Virtual Planning process, we can help you choose features that will transform your basement into a space that meets your family's needs. Whether a rec room, home theatre, guest room or personal gym, Kerzner will see your basement remodel through…from start…to finish.
If you have questions regarding any of the projects below, please call 262-567-2500. Remember Kerzner can take your project from start to finish!
Hartland Lower Level by Kerzner Remodeling and Construction
The owners of this newly constructed home wanted to utilize the large unfinished area in their lower level. Among their desires, a media area where they could enjoy a good football game with lots of room for guests.They wanted a small bar area, full bath a work out room, and lastly a small private office. A design plan and virtual pictures were created offering views of the finished concept. After a few changes, construction began.
The wall at the stairway was partially removed to create an open staircase. A back corner area made home for the fitness area.
The bathroom features an oversized neo angle shower and large pedestal sink. Natural stone tile was used on the floor and gives the room a rich look.
Lastly, the office features a tray ceiling and integral bookshelf. These clients were thrilled with the final result.
The project came in at near budget and with few delays. It went onto win a Wisconsin Remodeler's Award and has been a featured project in many of our magazine ads.
After: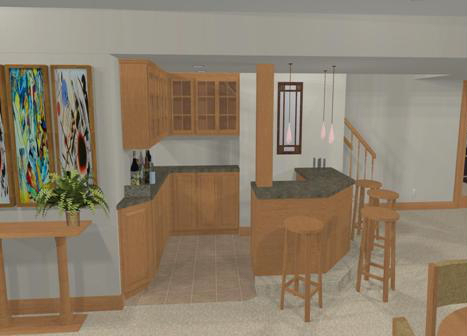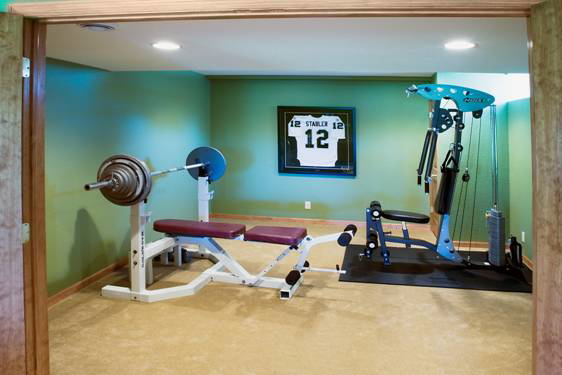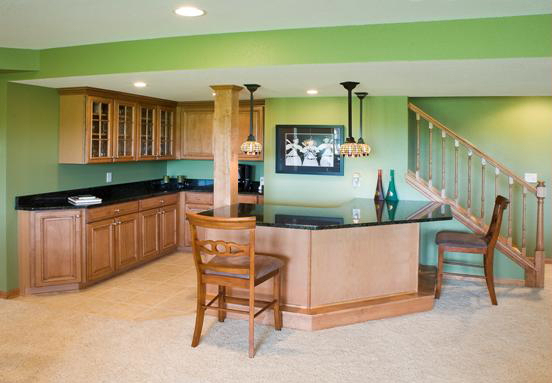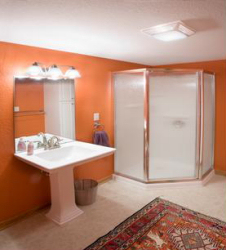 Pewaukee Lower Level by Kerzner Remodeling and Construction
This condo in Pewaukee had an unfinished lower level. Our client wanted an area where she could entertain family and guests. A few of her desires were a place for a pool table, bar and a media area. There were anumber of structural components to work around. Two niches existed in the foundation walls
Our designer created a virtual plan that incorporated the two wall niches. One was used to house the bar and the other made home for a media component cabinet. The staircase was opened to marry the lower level with the first floor. The structural components were incased in the drywall.
An open concept was used to allow the room to function as a number of venues. A horseshoe bar was custom built to fit well within the larger niche.
Our client used a Coca-Cola theme and incorporated vibrant colors to liven things up a bit. White walls create a backdrop for the color palette. Oatmeal colored cabinets blend nicelywith the rest of the room and create needed storage.
Whether entertaining the grand kids or engaging in an intense game of Texas Hold 'em, this room works.
This project won a Wisconsin Remodelers Award and has been featured in area publications.
Before: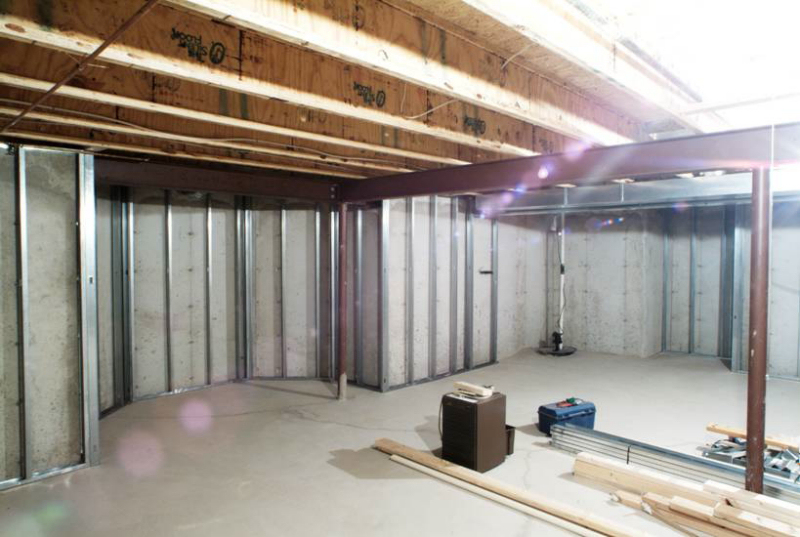 After: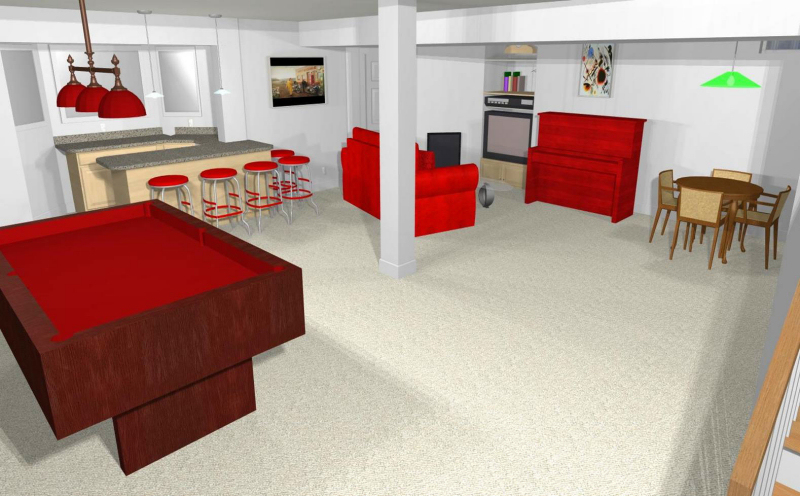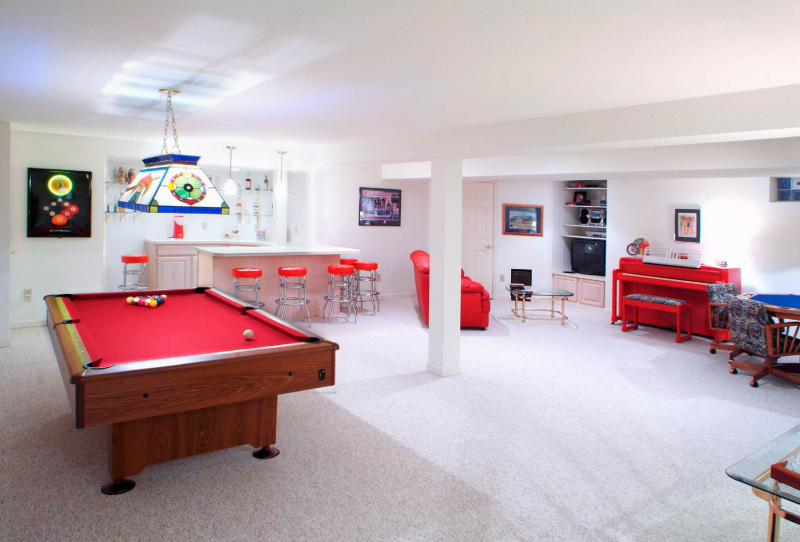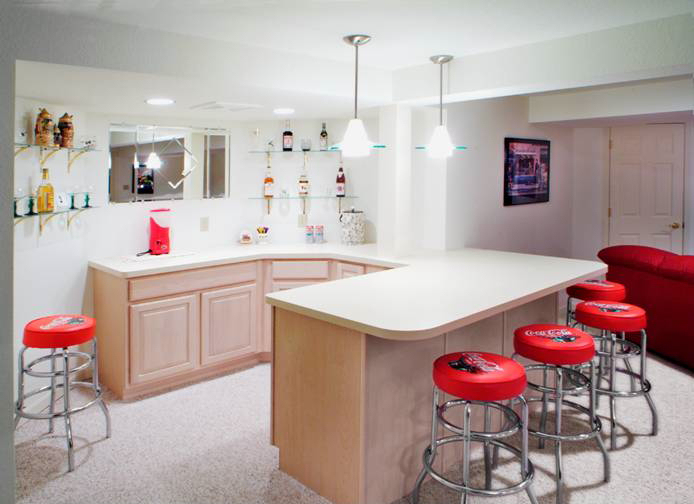 St. Francis Lower Level by Kerzner Remodeling and Construction
This home had a dark, dingy basement with low ceilings, mechanicals spread all over, small windows and uneven floors. Our clients wanted this basement converted into a area where family and friends could share in agood football game or the grand kids could play video games.
Our designer faced a number of challenges, low ceilings, a difficult floor plan and the lack of natural lighting. Virtual plans were created to help the clients follow the design process and develop their desires into a picture of final project. These conceptual plans proved extremelyimportant in helping the clients visualize the limitations of the space available.
A gas fireplace with granite hearth was centered on the large wall across from the stairway creating a stunning visual as family and guests come down the newly opened staircase. A large plasma TV was installed in perfect position across the long way of the room. Recessed lighting was placed in the ceiling to provide much needed light.
The entire sound system was placed in walls and ceilings to save space. A full kitchenette makes entertaining a breeze! The island was constructed on wheels so it can accommodate a wide range of uses, whether enjoying a beer with friends or serving a snack buffet during intermission.
Before:
After: