Call 262-567-2500 to get started with your deck project!
Kerzner understands the importance of having an attractive home, with an exterior that displays its value and your pride of ownership. Through Virtual Planning our design staff can show you options and help you select siding, windows, decks, and other architectural features that enhance the beauty of your home's exterior. We can help you make a great first impression …from start…to finish.
If you have questions regarding any of the projects below, please call 262-567-2500. Remember Kerzner can take your project from start to finish!
Oconomowoc Deck by Kerzner Remodeling and Construction
The lower level of this Brookfield was old and dated. The clients wanted to update this area to include "state of the art" media components yet not close things up with a dedicated home theater. Much of the bar area was salvageable so the design needed to incorporate existing cabinets. Virtual design concepts were completed and presented.
Open view arches were incorporated to separate the room and make the transition of different ceiling levels. Granite countertops grace the snack bar and bar top. Halogen lighting was installed in the arch over the snack bar.
Crown moldings add the finishing touch to ceiling and cabinet tops. A niche in the foundation was transformed into a perfect home for a card table. Mirrors were strategically placed so the TV screen can be viewed by the bartender. This project went on to win two local and two regional remodeling awards. Later that year it won a coveted National Contractor of the Year Award.
The project was delivered on time and within budget.
Before: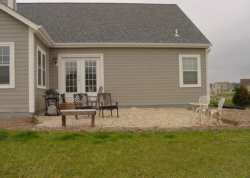 After: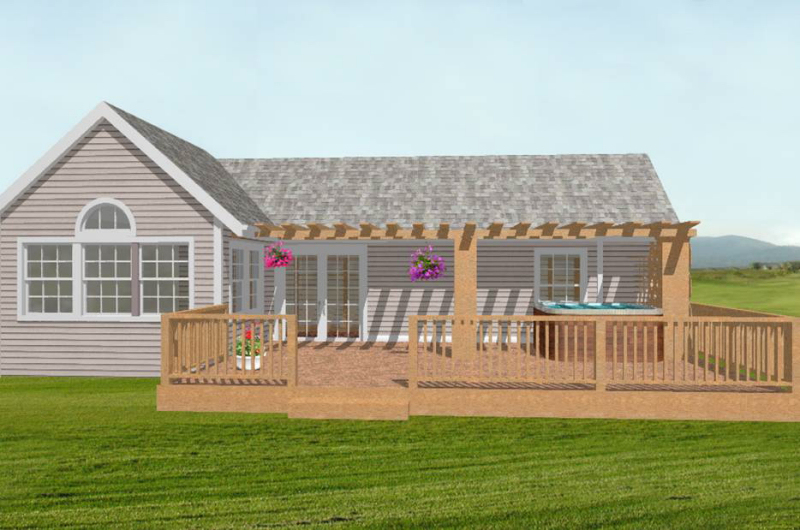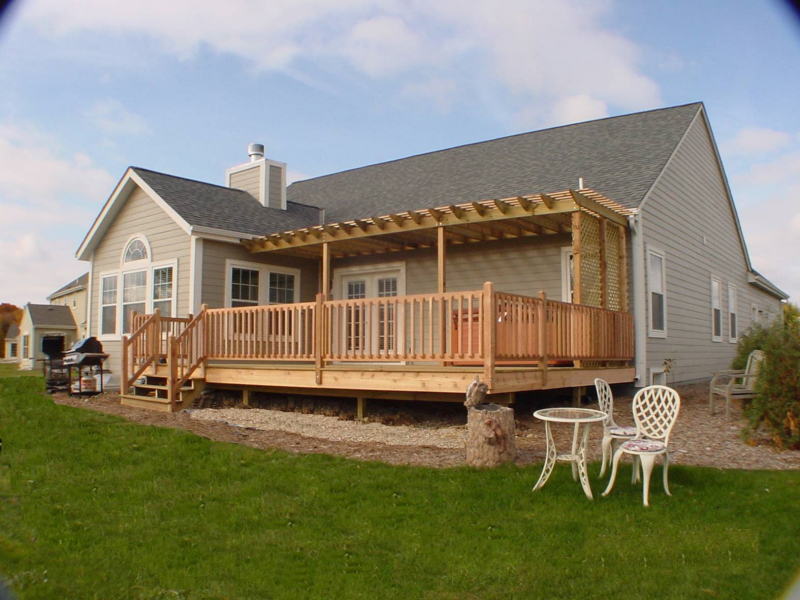 Wales Deck by Kerzner Remodeling and Construction
Located in the heart of the Kettle Moraine, this home had breathtaking views of the natural landscape. The clients wanted an observation-style deck that would blend with the surroundings and serve as an area to entertain and enjoy the solace of the forest. Our design staff created a plan that incorporated a new entrance featuring awning-style windows, a unique roof line and integral exterior lighting. Stainless steel cable was used in conjunction with cedar to create railings that would create an elegant unobstructed view of the forest. A staircase was constructed to marry the upper deck area with the yard below.
This deck won a Wisconsin Remodelers Award and a Milwaukee Home and Fine Living Award. It has been featured in a number of publications.
After: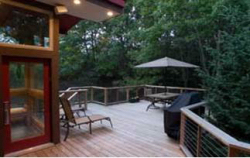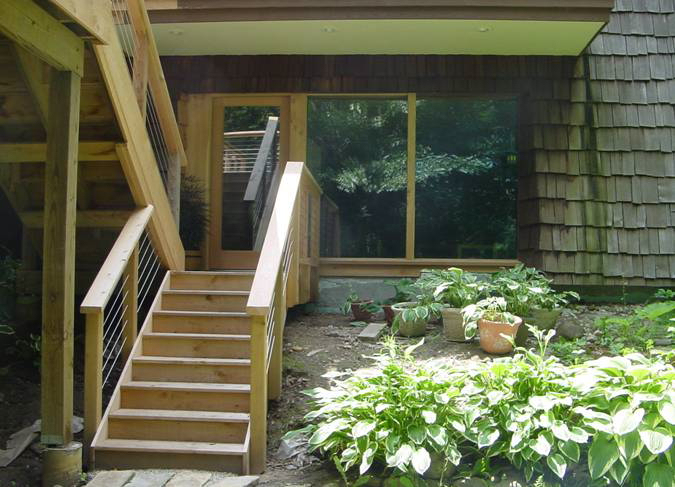 Milwaukee Remodeling – Exterior by Kerzner Remodeling and Construction
Located in Story Hill, this home is among a number of architecturally historic homes. The garage was too small and badly needed updating. The clients foremost concern was that any work done complement the existing architecture of the home.
A new two-car garage was constructed with a barrel top dormer and carriage style doors. An arched entrance was constructed into the breezeway to mirror the dormer and canopy on the house. The arched canopy over the main entrance door was designed with a copper roof. Old and worn shutters were replaced with new panel style shutters. The existing addition was updated with new roof lines and french doors.
After: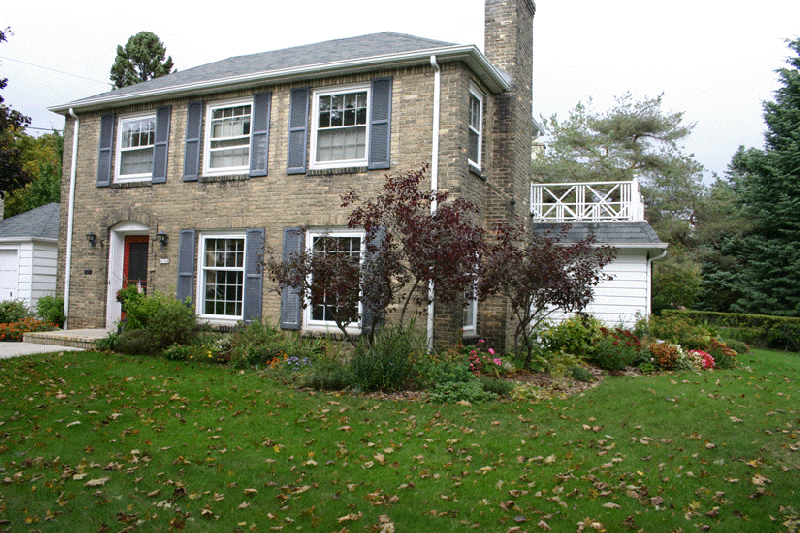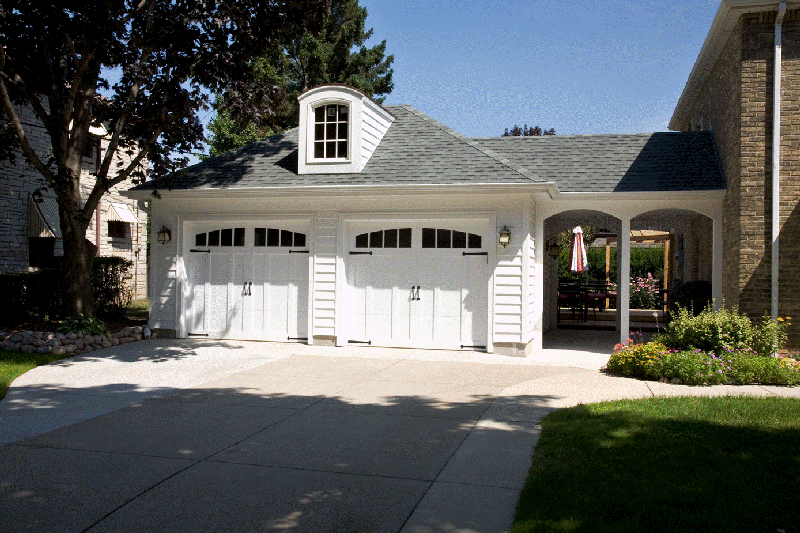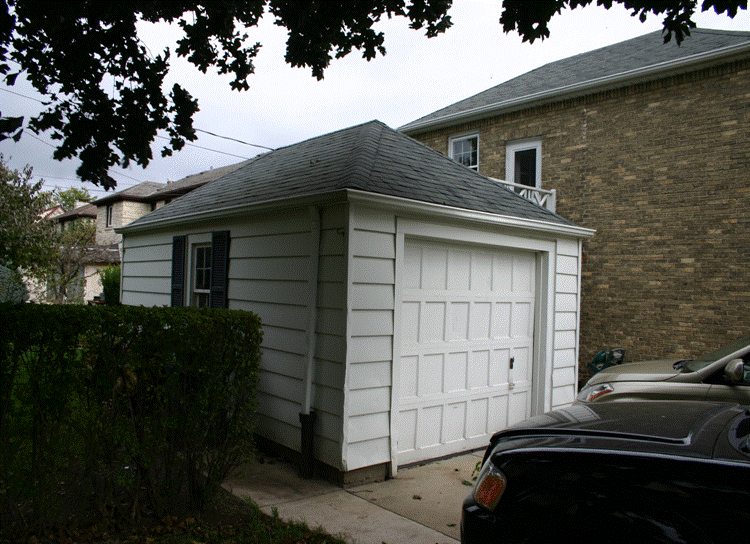 New Berlin Exterior by Kerzner Remodeling and Construction
The beautiful California contemporary was suffering from deteriorating exterior fueled in part by the use of inadequate materials.
First and foremost in the client's desires was maintaining the contemporary look of the home. After extensive photography, much discussion and later creation of a virtual design the clients were confident with the plan.
Among the changes was the creation of a false window facade that would hide the existing chimney and give symmetry to the upper bank of windows. Much of the exterior trim was rotted and needed replacement. The new trim was clad with color coated aluminum in a terra cotta finish to blend with the concrete walks. The lower sunroom windows were replaced and clad as well. The existing shingles were removed and a new roof was installed featuring weathered wood architecturalshingles. The sidewalls feature vertical vinyl siding that mimics cedar, installed on 45 degree angles giving them a high style appearance andcreating interest on the homes sides.
The clients were thrilled was the result and love the fact that there is little to no exterior maintenance. This project has been featured in many Kerzner promotional materials and has been one of our favorite projects in recent years.
Before: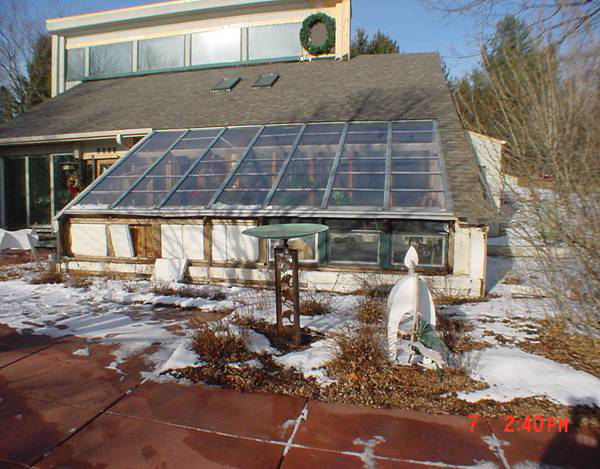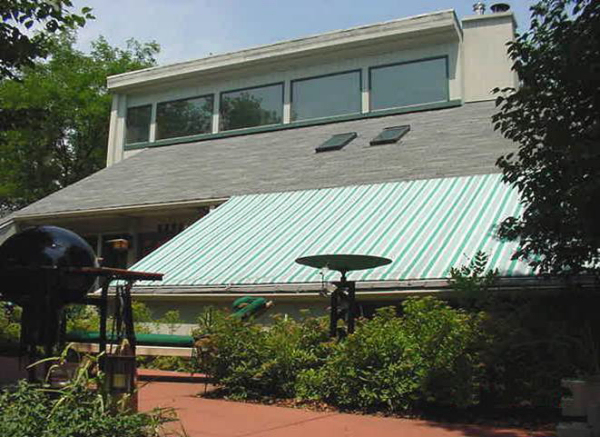 After: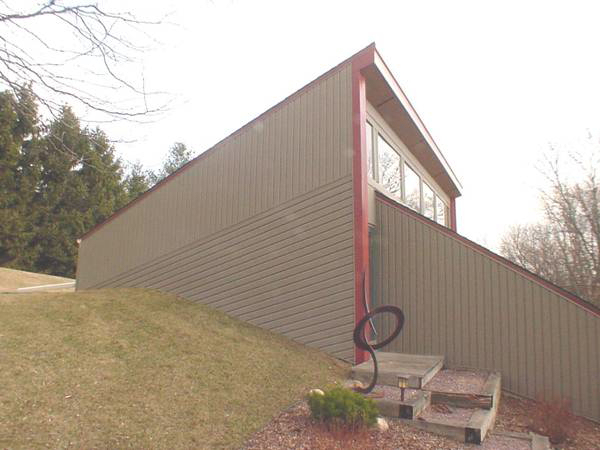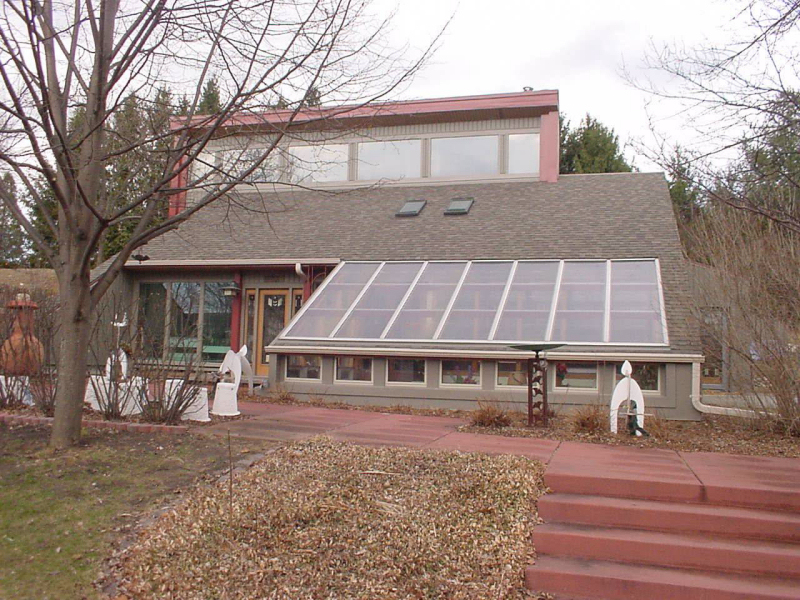 Oconomowoc Exterior by Kerzner Remodeling and Construction
Built in the 6os this Oconomowoc ranch needed a face lift. Simply residing wasn't going to make the grade. Our design team went to work by first photographing the tired exterior and planning an exterior renovation that utilized the existing structure with a few modifications.Early concepts included a new color pallet, and an inviting front entrance. The virtual design (below) was created to reach final design approval.
The clients wanted an low maintenance exterior, but natural looking materials. Vinyl siding was chosen in a 4" clapboard configuration. The tired roof was replaced with new architectural series shingles mimicking cedar shakes. Field stone veneer was used to warm the front entrance andround fiberglass columns provide a shoulder for the new canopy. Burgundy shutters and entrance door complete the project.
This project won a Wisconsin Remodelers Award and is a featured project in many publications.
Before: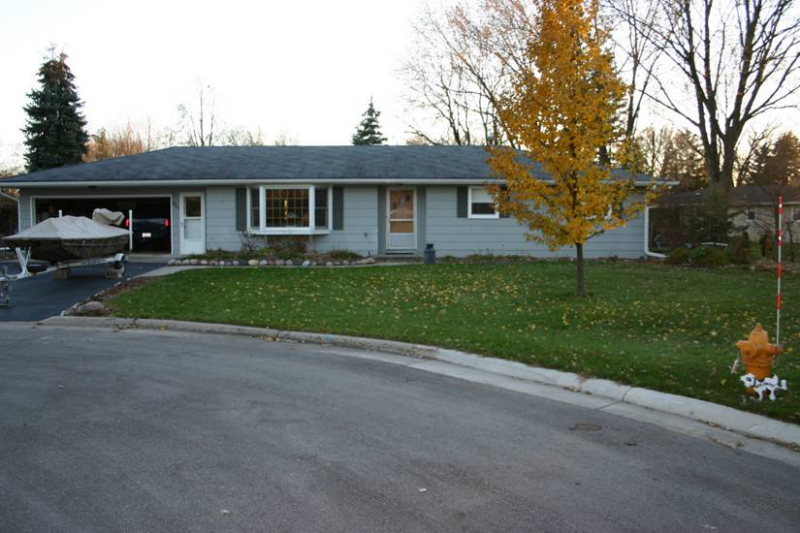 After: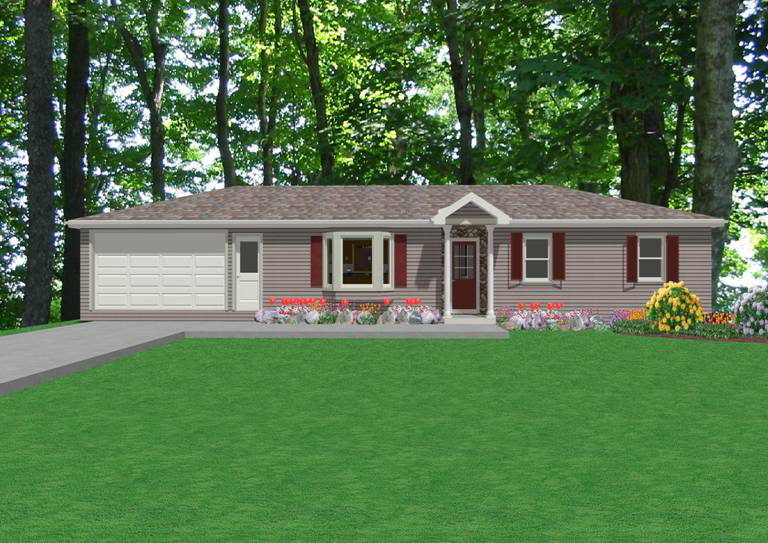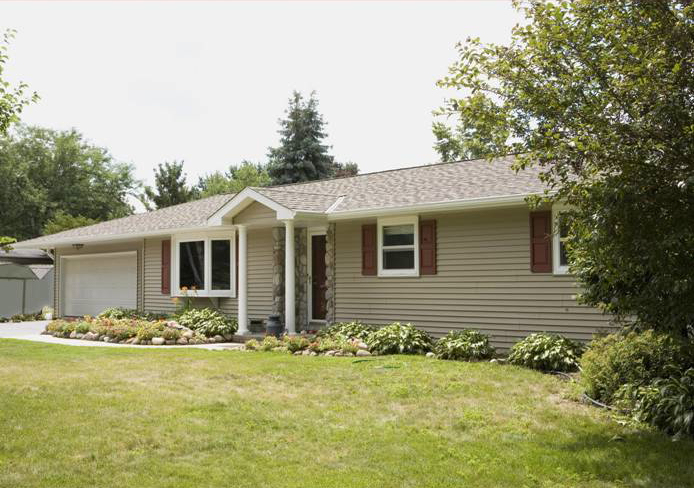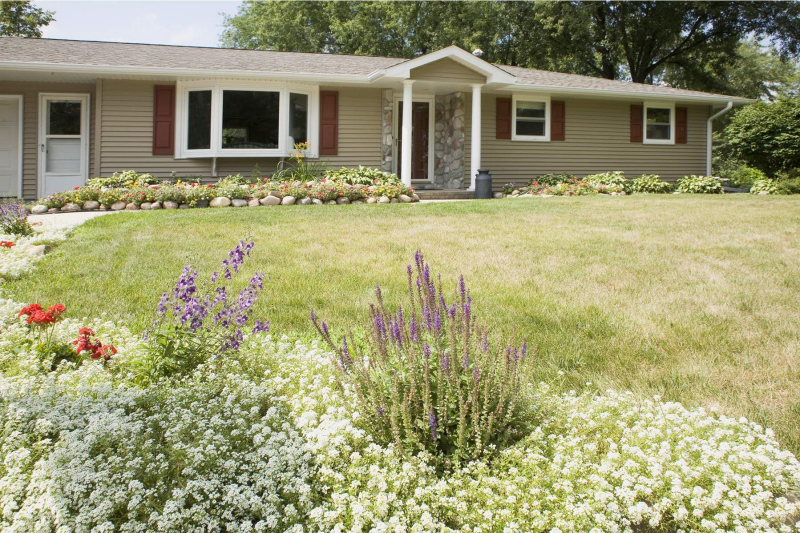 Pergolas by Kerzner Remodeling and Construction
An exterior pergola can add elegance to an outdoor area by creating a focal point, as well as, provide protection from extreme elements. Each of these featured projects was constructed over areas that were in a direct line of the sun during hot summer days.
Pergolas offer as much or as little sun filter as desired by the slat direction and spacing. All the exterior elements we construct are custom designed to fit each space.
Kerzner Remodeling and Construction has completed a number of projects incorporating award winning pergolas.
Images: